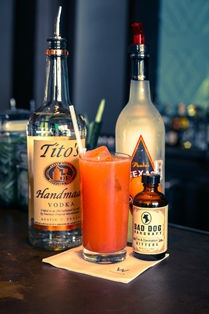 INTRODUCING THE COTA FLAME™, THE NEW SIGNATURE COCKTAIL OF THE CIRCUIT OF THE AMERICAS
Designed by the W Austin, this new signature cocktail of the Circuit of The Americas, features uniquely Texas tastes, including spirits manufactured in the Lone Star State. The main ingredient is Tito's Handmade Vodka, which is produced in Austin at Texas' first and oldest legal distillery. Tito's Handmade Vodka is made in small batches in an old-fashioned pot still by Tito Beveridge and is distilled six times.
Other locally fashioned mixers in the COTA Flame are Paula's Texas Orange, a premium, handmade liquor with a zesty orange flavor, and Fire and Damnation Bitters, a small-batch, hand-crafted bitters produced by Bad Dog Barcraft. Paula's Texas Orange, mixed with the orange, lemon and cranberry juices featured in the drink recipe, gives the cocktail its warm color and sweetness, while the spicy bitters give the COTA Flame a heated kick.
Enjoy the COTA Flame at the Circuit of The Americas sports and entertainment events throughout the year and exclusively in the Living Room Bar at the W Austin.
COTA FLAME™ OFFICIAL RECIPE
Crafted by W Austin
1.5 oz. Tito's Vodka
.5 oz. Paula's Texas Orange
.5 oz. Cranberry Juice
.5 oz. Lemon Juice
.5 oz. Orange Juice
Dash of Bad Dog Fire & Damnation Bitters (or two dashes if you want extra heat)